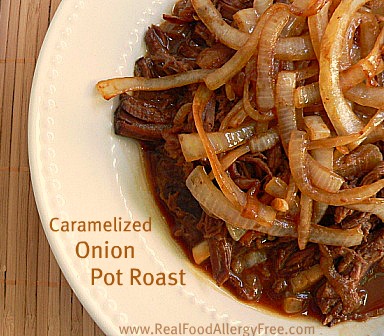 Caramelized Onion Pot Roast in the Crock Pot
4 Onions, sliced thin

Palm Shortening or oil of choice

1/2 tsp Salt

1/4 tsp Pepper

1 cup Beef Broth

1/2 cup Apple Juice

1 Tbsp Sucanat or Brown Sugar

2 Tbsp Dijon Mustard

2 1/2 lb Rump Roast
In a large skillet, cook onions until translucent and brown. Stir in remaining ingredients except roast and heat through.

Spoon half of the onion mixture into the crock pot. Place the roast on top of the onions. Spoon the rest of the onion mixture on top of the roast.

Cover and cook on low 8-9 hours or until roast is falling apart.

Serve over mashed potatoes.