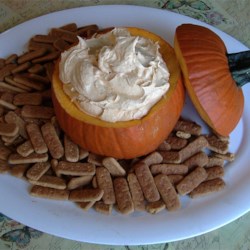 This is one of my favorite fall treats. It's quick, easy, and not too heavy. I normally make this recipe with prepared pudding instead of just adding the powdered mix to the pumpkin and whipped topping. There's just one problem... if you're sensitive to dairy, most pudding mixes will not set with any milk other than real milk. Jell-O brand says on their website that you can make the cooked pudding with soy milk, but the consistency will be thick. It's all rather frustrating if you ask me. Let's hope this recipe is just as tasty and works well!
You serve this as a dip with graham crackers, ginger snaps, or any other cookie of your choice. I'm going to try it with some allergy free ginger snaps or vanilla cookies. Can't wait! Enjoy!
Ingredients
1 (16 ounce) container frozen whipped topping, thawed
1 (5 ounce) package instant vanilla pudding mix
1 (15 ounce) can solid pack pumpkin
1 teaspoon pumpkin pie spice
Directions
In a large bowl, mix together instant vanilla pudding mix, pumpkin and pumpkin pie spice. Fold in the thawed frozen whipped topping. Chill in the refrigerator until serving.